Roblox Video Stars program is definitely a nice approach. It's the "game creation platform" way of saying we recognize your hard work and one of the things that make it "unique" is that it brings a slew of benefits.
From a premium membership to early access to selected items, features, and events, Roblox Star program also offers users an exclusive video creator top hat, videostar badge as well as a video promotion from the official Roblox channels.
But the perks doesn't end here. The major reason why a "slew" of YouTubers are joining the Roblox Video stars program is because of the experimental Star Code tool which helps them earn commissions on every Robux purchase made by fans.
Also Checkout: Roblox Toy Codes and Redeem Guide
Hence if you're looking to support your favourite Roblox Video Star, you can painlessly use their special code to purchase Robux from the Roblox website. Once you enter a valid code, the content video star will instantly earn 5% of the Robux purchase you make and you'd still receive a full amount of the Robux you paid for.
So you see, it's like killing two birds with one stone. So if you're looking to contribute to your favourite video star, then we have got you covered. Below is a full list of all the currently active Roblox star code to redeem right now.
AlvinBlox
AmberryYT
Anyx
Annoying Orange Gaming
Ant
Ashleyosity
AshleyTheUnicorn
BereghostGames
Buur
CaptainTate21
Chrisandthemike
Conor3D
CraftedRL
DeeterPlays
DefildPlays
Denis
DOLLASTIC PLAYS!
Fnatic
FunkySquad413
Fuzz
GallantGaming
GamingMermaid
GamingWithKev
Gravycatman
Hyper
ibemaine
INeedAMint
InquisitorMaster
ItsFunneh
Jayingee
Kavra
Keiser
KreekCraft
L0GinHDi
Landon
Leah Ashe
Linkmon99
Lonnie
MatrixPlaysRB
MeganPlays
MicroGuardian
MuneebParwazMP
MyUsernamesThis
NapkinNate
Night_foxx
NotThnxCya
ObliviousHD
okgamerman
PeetahBread
Poke
PrestonMobile
Raconidas
Rainway
RazorFishGaming
Realistic_GamingMC95
Realrosesarered
RealSubZeroExtabyte
Remainings
RenLeaf
Roblox Minigunner
ROBLOXMuff
RODNY_ROBLOX
RussoPlays
ryguyrocky
SallyGreenGamer
Seedeng
Senior
SGC_Shane
SharkBL0X
skyleree
Stronbol
TanqR
TBNRwife
Terabrite Games
The Monkey
therealcybernova
TheRoPo
Thinknoodles
ThnxCya
Tofu
TootieFruity9000
ToyHeroesMolly
TwiistedPandora
VeD_DeV
xdarzethx
Z_Nac
Z00LD
ZacharyZaxor
ZephPlayz
How to Redeem Roblox Star Code
Now that you have known what star code are used for in Roblox as well as a full list of them in your custody, it's time to learn how to use or redeem them. So to get this one going, simply head over to Roblox Robux page and select the amount of Robux you want to buy.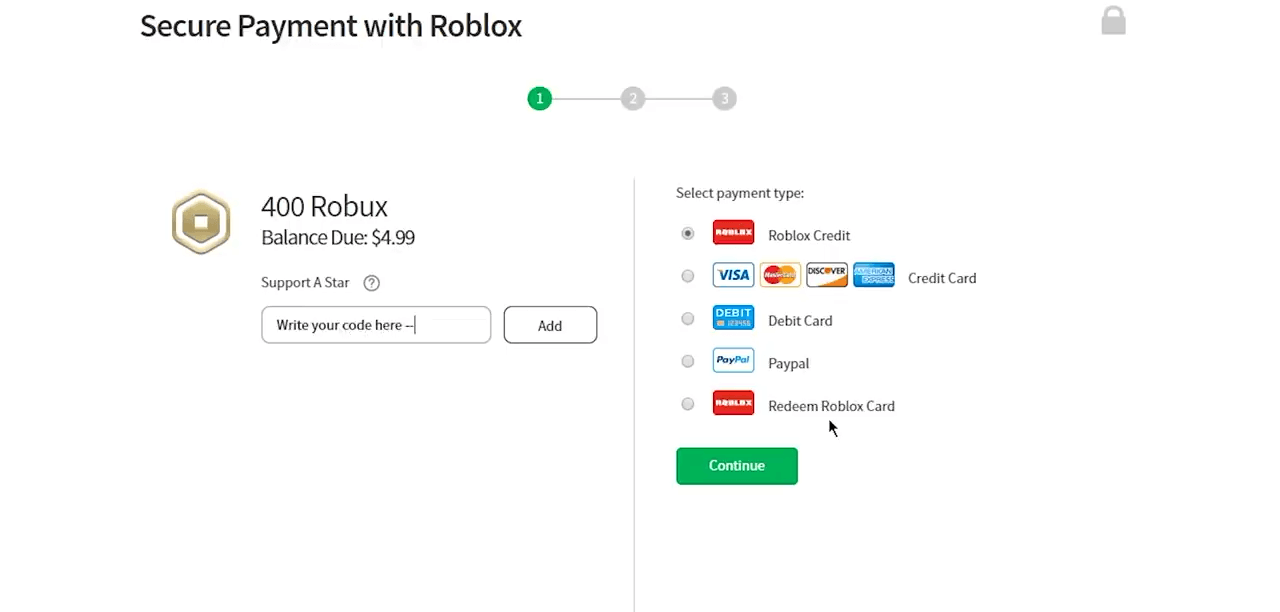 On the next page just beside the texts that reads Select Payment Type, simply press the Click Here text to reveal a box. Now go ahead and input any of the above listed Star Code and hit the Add button to support your favourite video star.
Joining the Roblox Video Stars Program
Assuming your Roblox videos have amassed a total of 10,000,000 views plus 25,000 average views per video and 100,000 followers and/or subscribers on your channel, then you're fully set and eligible to join the Roblox Video Stars program.
To do this, simply send the URL of your video channel and Roblox profile to [email protected] and allow for at least 2 weeks for a response.