Starving Artists Script galore. So if you're looking to get infinite coin or to AutoFarm Robux, then here's some of the best and currently working scripts for Roblox Starving Artists.
Created by Double Bandits Studios in 2022 and published under the Building genre on Roblox, Starving Artists is arguably one of the fast-rising 3D experiences on Roblox. The game albeit new sees over 6,000 active players daily and has amassed more than 100 million visits so far.
Also Checkout: Retail Tycoon 2 script
Said to be a donation game, Starving Artists is simply a Roblox experience that task players to create beautiful artwork and then sell it for Robux. The game's main objective apparently is to become the most famous artist out there, but the only way to achieve this dream is by utilizing scripts.
So assuming you are looking to make your gameplay easier and probably enable essential hacks that can help you create astonishing arts and sell them easily for Robux, then here's a list of some of the currently working Roblox Starving Artists Script to make use of right now.
Starving Artists Script
Albeit relatively new, there are a plethora of scripts made for Starving Artists and the best amongst them can help you get infinite coins and more. So assuming you are already itching to get your hands on them, then here's the best Starving Artists Script that works in 2022.
Script 1
Script 2
Script 3
Script 4
loadstring(game:HttpGet("https://raw.githubusercontent.com/juNstring/LuaProjects/main/StarvingAutoFarm"))()
How to Execute Scripts in Starving Artists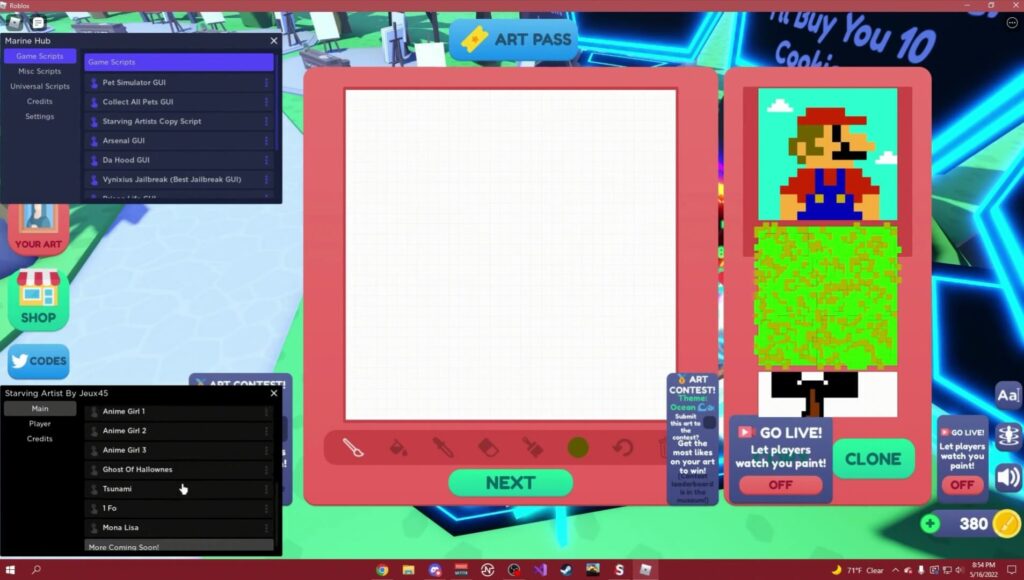 Prior to executing scripts in a game on Roblox, one will need to employ the services of a reliable Roblox exploit. From Krnl, Fluxus, Synapse X and more, there are a plethora of them.
So assuming you do not have one downloaded yet, simply jump into our previous post detailing the best Roblox script executor and/or exploit and find yourself something that works.
Once installed, simply go ahead and jump into Roblox, then fire up Starving Artists as well as the downloaded exploit. Next up, copy and paste any of the scripts listed above into the box found within the executor.
Once done, click on the Inject/Attach button followed by Execute and the script GUI will pop-up. Now go ahead and enable the hacks you prefer.