Fortnite Skin generator galore. So if you are looking for the best cosmetics to wear in Battle Royale, then here's the best Fortnite randomizer to utilize right now.
In Fortnite, getting a Victory Royale is everything. But if you don't have all the cosmetics you need to look good, then the show-beating finale wouldn't be fun. From Goldie to Sentinel, there are a plethora of Fortnite Skins you can adore your character with to make him/her stand out from the crowd.
But there are times when you'd get bored playing with the same "character" with the same outfit and equipment over and over again. This is where Fortnite Skin Generator and/or Fortnite Randomizer come into play. They are basically tools designed to help users randomize Fortnite skins with ease.
If you're an anime fan, you can also check out some Naruto Fortnite Skins.
From outfit to glider, back bling, pickaxe, skydiving trail and wrap, Fortnite skin generator can painlessly help you edit your loadout without thinking twice and the end result will be perfect. Now if you are looking for a Fortnite randomizer to help you generate Fortnite Skins with ease, then here's a list of the best Fortnite skin generator to utilize right now.
1. Fnbr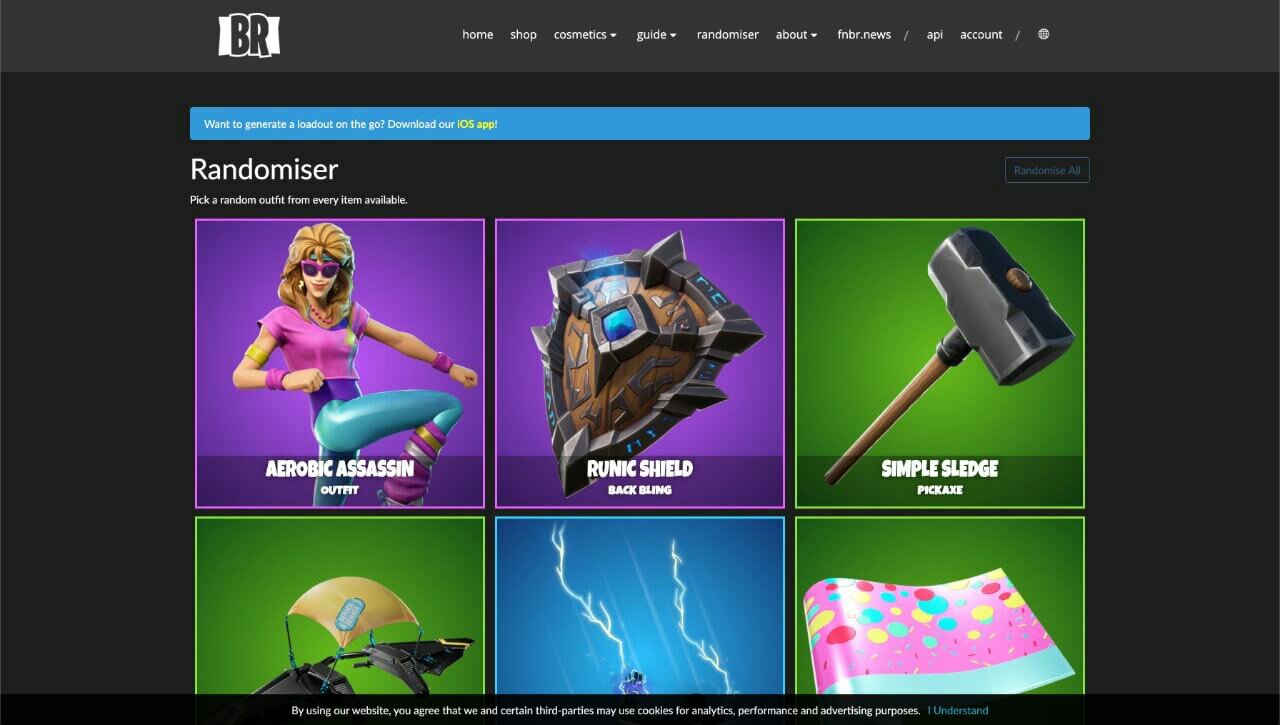 Amongst Fortnite players, fnbr is known. It is one of the most popular website dedicated to everything Fortnite. As from from news, fnbr serves as a directory for Fortnite cosmetics. Directly from the homepage, you'd see a list of leaked Fortnite Skins as well as all the items available in the game.
One of the things that make fnbr stand out is that it includes a shop that "unravels" all the items currently available in Fortnite Battle Royale and it resets daily at 00:00 UTC. These aside, fnbr features a randomizer and it's one of the best out there.
Once you head into the site's Randomizer page, you'd be asked to pick a random outfit from every item available and assuming you don't fancy what was generated, you can easily click on the Randomize All button to come up with new items to choose from.
Visit Fnbr Randomizer
2. Fifa Match Creator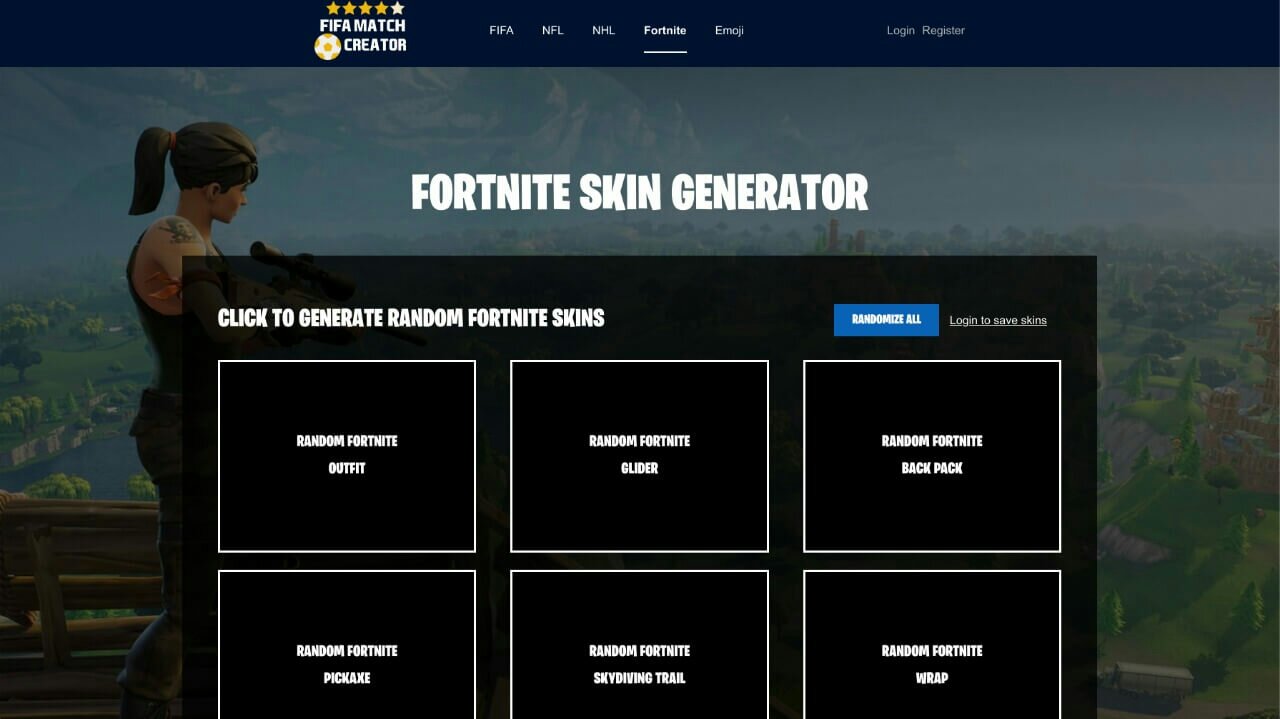 When a platform tries to bring every single tool in one place, it is bound to make waves. From FIFA team generator to NFL and NHL generator, Fifa Match Creator is definitely generous and its Fortnite skin generator tool is simply superb.
Hitting the "Randomize All" button from within the website (Fifa Match Creator) will instantly generate random Fortnite skin, back bling, glider, pickaxe, skydiving trail and wrap in six (6) different squares and each square comes with its own item and a background color that depict the rarity of the generated cosmetics.
One thing you need to know is that not all skins generated from Fifa Match Creator is free to use. So assuming you haven't unlocked the items generated, you can easilu go ahead and click the Randomize All button to come up with new set of cosmetics or you can generate a single item by clicking on it.
Visit Fifa Match Creator Skin Generator
3. Fortnite Tracker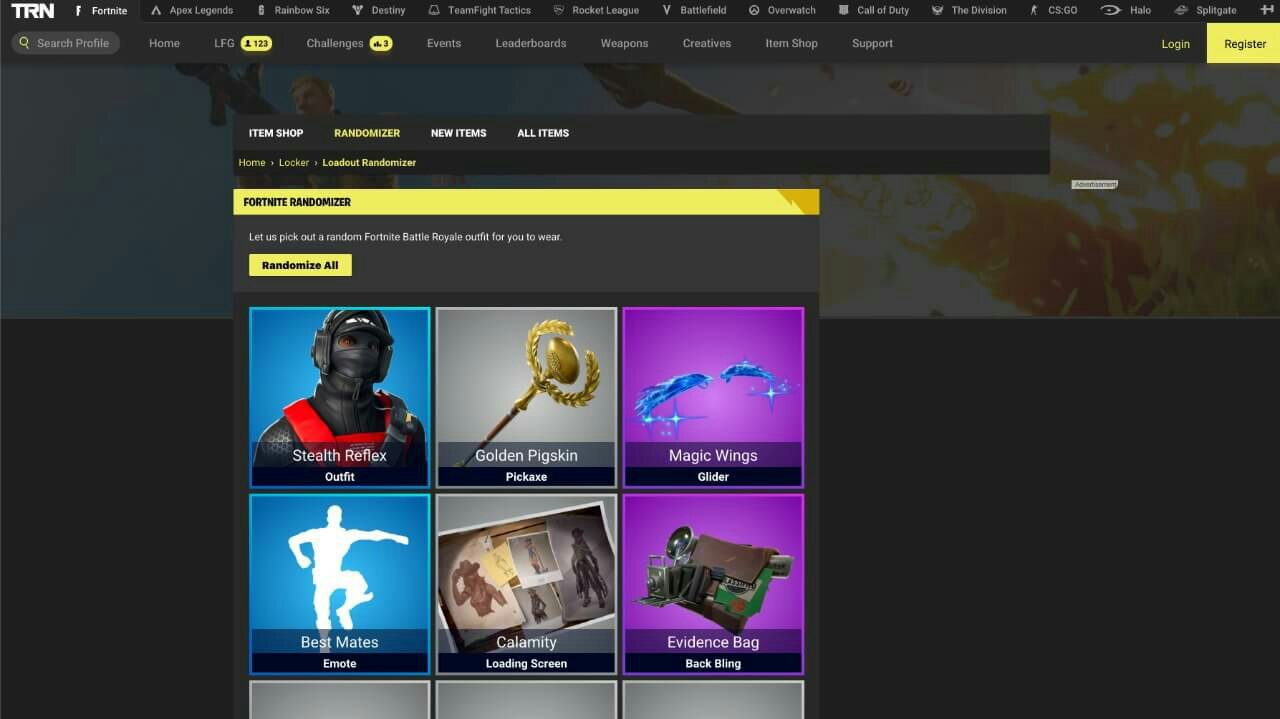 In our previous post, we listed this site as one of the best Fortnite trackers out there on the web and we ain't taking that back. Initially created to help users track their in-game stats as well as performance, Fortnite Tracker has grown tremendously.
Its TRN rating which was developed to rank players on each mode they play (be it solo, duo, squads and more) helped in the site's massive success and with its Randomizer tool, you can easily choose a random outfit to wear in battle Royale.
Unlike the aforementioned, Fortnite tracker Randomizer won't only generate outfit, back bling, pickaxe and glider but will go as far as letting you pick the best emote, toy, spray decal, contrail and loading screen that looks awesome. It's a handy tool that's worth using.
Visit Fortnite Tracker Randomizer
Wrapping Up
So these are every single Fortnite skin generator out there and trust me, they are legitimate and most importantly free to use. They'd help you come up with cosmetics that match perfectly.