Xoxo Droplets cheat codes abound. So if you are looking to get tons of reputation points, money and affection points, here's all the currently active Xoxo droplets cheat codes to utilise right now.
XOXO Droplets is an interesting visual novel/dating game worth giving a time especially on leisure. Its gameplay puts you in control of an impolite boy-crazy young teenager sent to a boarding school of her dreams at the start of her junior year in high school. However, following her awful manners, she's forced to join an after-school group designed for students with behavioral problems.
Also Checkout: Arenus Cheats for Gold, Warden Points and More
As the player, your objective will be to help your nameable character escape expulsion by having her befriend other students whilst chasing after the attractive guys in the after-school group and maintaining a healthy reputation with one of the school's cliques.
This of course doesn't sound easy and this is where Xoxo droplets cheat codes comes in to play. So assuming you're looking to help your character pursue her love interest without thinking much of accruing reputation points, then here's all the working XOXO Droplets cheat codes that can help simplify your gaming experience.
XOXO Droplets Cheat Codes
From reputation points to unlocking all dates location and gaining affection for a specific student, the below XOXO droplets cheat codes will aid you as you strive to progress through the game.
easy-way-best-way – Gives you +500 Affection Points with Everett
dont-be-mad-i-cheated – Gives you +500 Affection Points with Nate
you-totally-already-liked-me – Gives you +500 Affection Points with Shiloh
who-needs-ralph – Unlocks all date locations
hurry-up! – Gives you +20 Swifty Taffies
they-should-know – Gives you +1,000 Reputation with all Cliques
XOXO Droplets DLC Exclusive Codes
am-i-smart-yet – Gives you +500 Affection Points with Bae
misery-loves-company – Gives you +500 Affection Points with Jeremy
you-dont-mind-right – Gives you +500 Affection Points with Pran
i-deserve-the-money – Gives you +200$
long-live-the-queen – Does everything the other cheats do all at once!
Note: The above XOXO Droplets cheat codes are case sensitive. So input them as shown below and also endeavour to include the hyphens.
How to Enter Cheat Codes in XOXO Droplets
The steps to enter cheat codes in XOXO Droplets is pretty simple and straightforward. So without beating around the bush, here's how to activate XOXO droplets cheat codes with ease.
To begin with, double-click to open XOXO Droplets and click on Load Game from the main menu.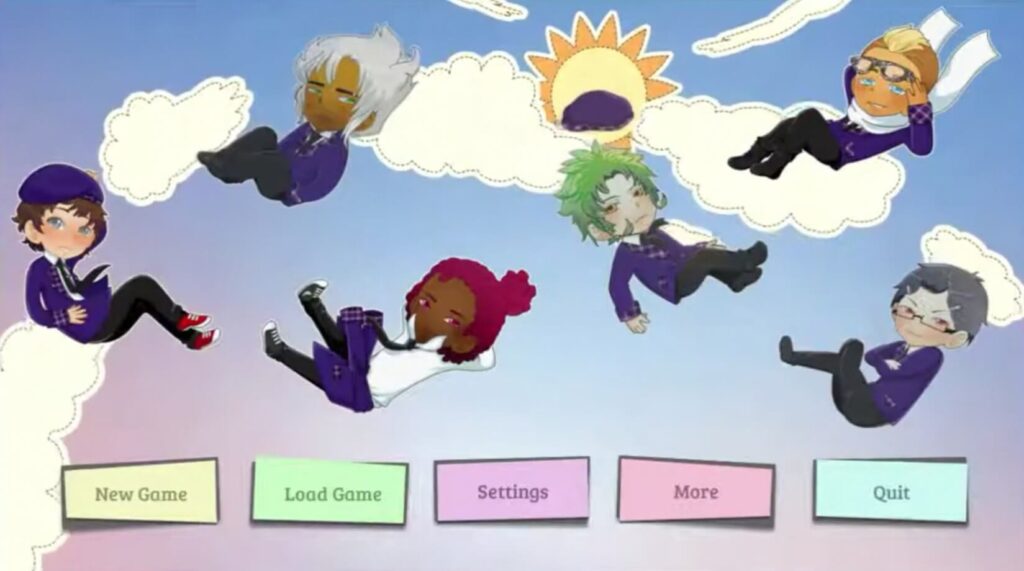 On the next page, select your recent save and you should arrive at the Memo screen.
From here, click on the Book icon at the bottom left (just below the pig icon).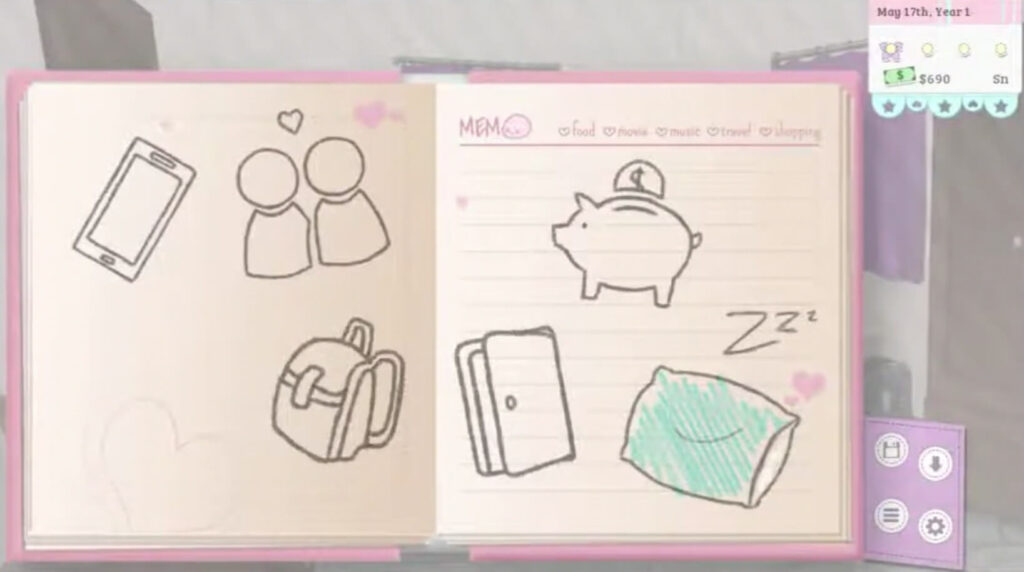 Now you'll be asked what you want to do. Simply select the option that says Enter Cheatcode.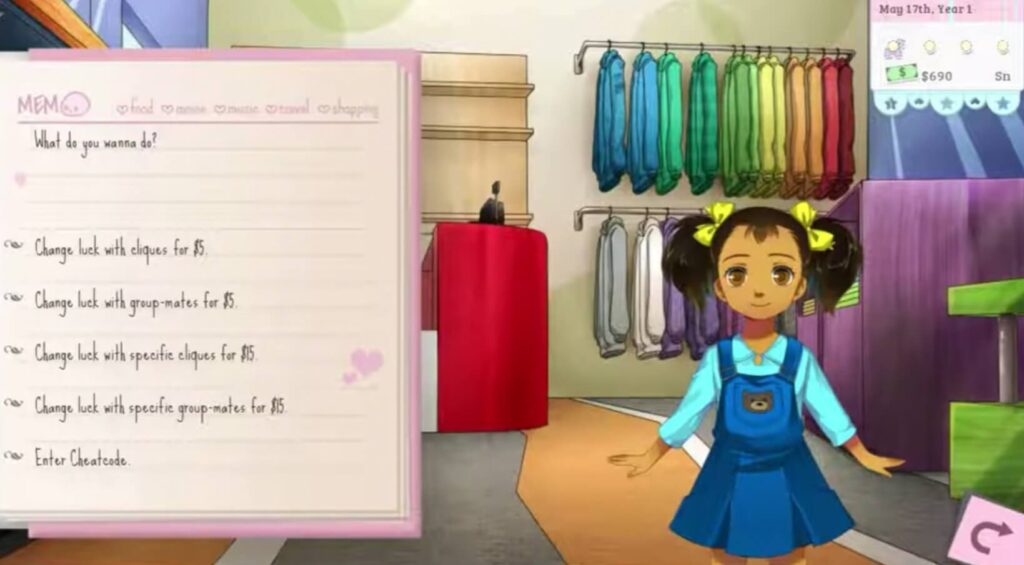 On the next screen, type in any of the Xoxo droplets cheat codes above and hit Enter to activate.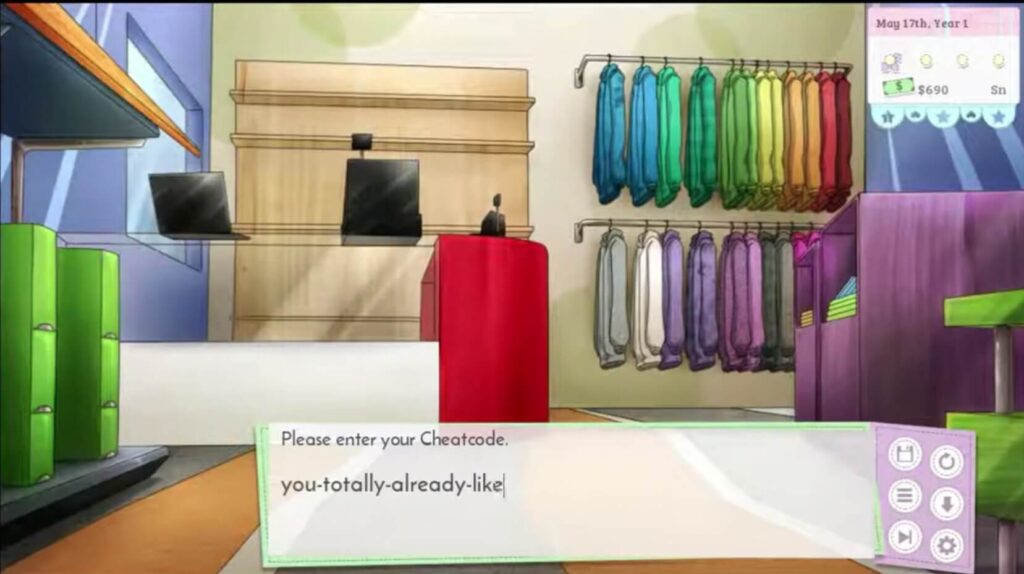 That's all!.