Looking to unlock all skins, or to always be imposter or probably dominate the game with ease, then here's the best Among Us Mod Menu APK to download right now.
Vanilla games to some sucks, but if you are able to get your hands on a modified or modded version of the same game, you'd feel like a god. In 2020, we saw a plethora number of games "rise" to fame and one such title that made it to 2021 is Among Us, an online multiplayer social deduction game that plays just like Town of Salem.
Released in 2018, Among Us is simply a game based on lying and bluffing. Its gameplay puts 4-10 players inside a spaceship ready for departure but unaware to some, there's an impostor bent on killing everyone. As the crewmate, your goal will be to complete all tasks while trying to identify and vote the intruder off the ship.
Also Checkout: How to Hack Among Us
However, if you happen to pick the role of an Impostor, then you'll be tasked to use sabotage to cause chaos and by so doing, you'd be able to make kills easily and even set better alibis. Now while it is fun to play Among Us, Innersloth has made it completely impossible to "manipulate" the game. This is where Among Us Mod Menu comes in to play.
Among Us Mod Menu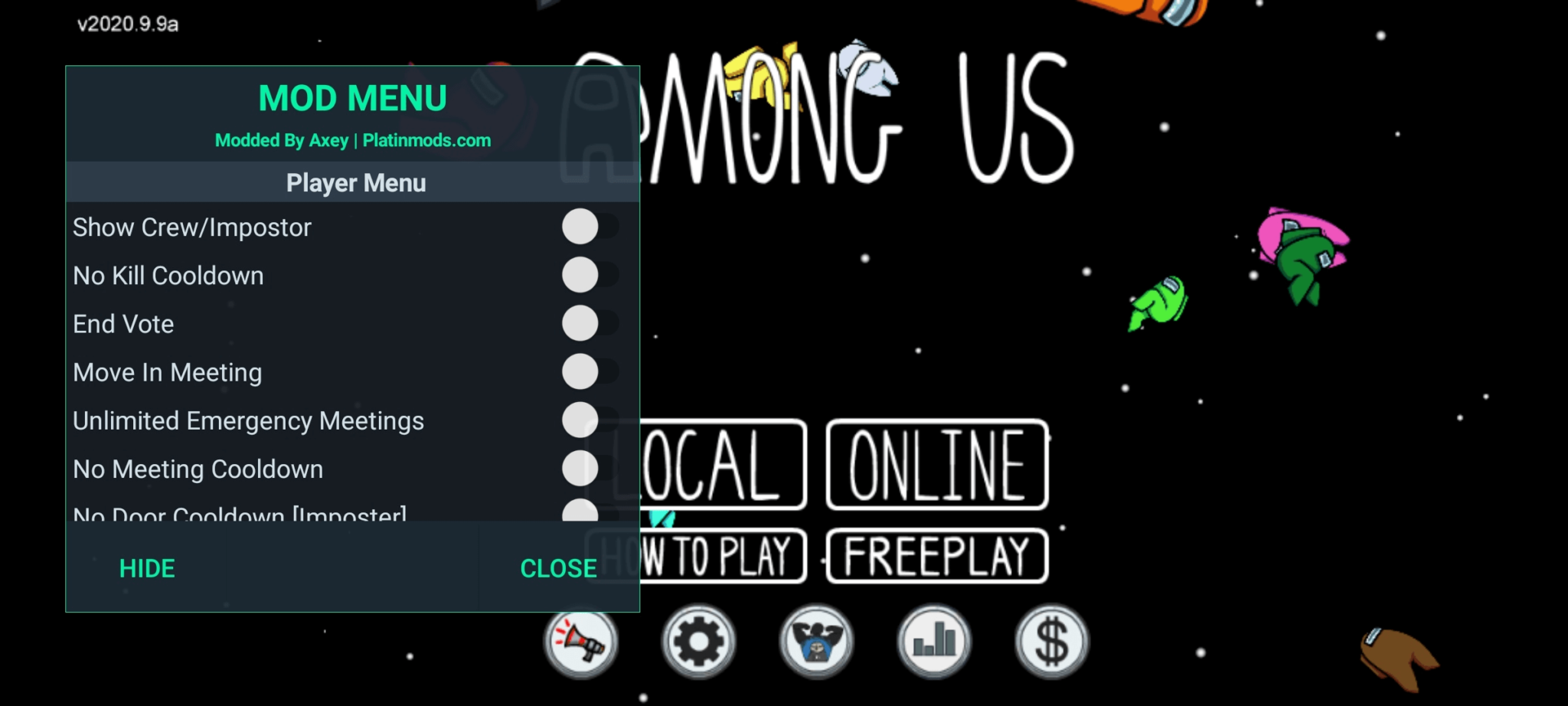 Often referred to as a hack, Among Us Mod Menu has come to stay. It is literally what is trending right now and if you happen to head over to YouTube, you'd see a slew of Vloggers sharing the Among Us mod menu APK. Now as a curiosity mind, you'd wonder what's so special about the modified version of the original game. Is it more complex, does it offer unique features etc.
Sincerely speaking, Among Us Mod Menu is exactly what you need especially if you are looking to win every round. It eliminates all of Innersloth restrictions and gives you the freedom to manipulate the game as much as you can. From adding extra player roles to setting up lobbies that can hold up to 100 people at one time, you can literally do the unthinkable.
One of the most surprising thing about this mod menu is that it retains all the features found in the vanilla game while adding extra perks. It's absolutely what you need to dominate the game with ease, and the most surprising part is that it's completely free, despite all the exclusive features.
Features
Among Us Mod Menu as we emphasized earlier are like hacks. They let you do and undo stuff and comes with a colossal number of features worth outlining. With this modified APK, you'd get to see the roles of other players without them knowing. You can also go as far as getting the imposter role every time and if you choose to, you can even remove the annoying fog of war and by so doing, you'd be able to know where everyone is hiding and which tasks they're doing.
Also Checkout: How to Have No Name in Among Us
That aside, Among Us Mod Menu unlocks all the premium items in the game, thus allowing you to acquire them for free. From Hats to Pets, Skins and more, you can painlessly adorn your character all of these items with just a click of the button. There are other parameters that equally helps you stop emergency meetings by other players and you can even reset the kill cooldown in order to eliminate any crewmate that get suspicious of your activities.
Features such as wallhack, visible ghost and instant kill galore and they are essential in guaranteeing your win. Below is a list of some of the Among Us Mod Menu features worth seeing.
[ Player Menu ]
Show Crew/Impostor
No Kill Cooldown
End Vote
Move In Meeting
Unlimited Emergencies Meetings
No Meeting Cooldown
No Door Cooldown
[Impostors]
Force All Enter Vent
Force All Leave Vent
Sabotage Lights
Repair Sabotage
Torch Distance
Close Doors
See Ghost + Chat
Complete Tasks
Select TextSpam
Colour Picker
Vote Colour
[ Movement Menu ]
[ Host Menu ]
Always Impostor
End Game [ Impostors Win ]
End Game [ Crew Wins ]
Instant Win [ Enable Before Starting ]
Random Colours
Random Hats
Random Skins
Random Pets
Change Everyone's Name
[ Account Menu ]
Unlocked Skins
Unlocked Pets
Unlocked Hats
[ Misc Menu ]
No Ads
No Leave Penalty
Increased Report [Buggy]
Confirm Injected
Long Kill
Player 2/3 = Impostor [Requires Always Impostor Being On]
[ Passive ]
Awesome right? You are just a step away from winning every single time.
Installation Guide
Just like how we install apps on Android, the step involve in sideloading Among Us Mod Menu APK onto your device is pretty simply. So if you are already itching to get a taste of all the goodies offered by this mod, then here's how to install Among Us Mod Menu APK.
To begin with, ensure you have already uninstalled the vanilla version of the game.
Once done, download any of the highly acclaimed Among Us Mod Menu APK from the links below and install it on your Android phone.
Do note that these Mod Menu comes with different features. So we urge you to download them both and then experiment in other to see which one works better.
Beware of Among Us Mod Menu Scam
Yes you heard that right. Once a game starts to garner popularity, it tends to allure the disingenuous people lurking round the web. There are several sites that claim to offer a reliable version of Among Us Mod Menu for PC and Mobile, but prior to having access to this file, you'd be asked to complete offers which mostly involve downloading third-party apps.
Do note that any hacks or mods that aren't shared for free are fake. Making out time to partake in these mundane tasks will earn the hacker behind such tool extra money and you'll on the other hand go home with nothing. Desist from sites such as this and browse safely. Overall, enjoy the Among Us Mod Menu APK shared above. If you have any further question, do make use of the comments below. Till then, happy gaming!.