From weapon skin to legendary outfits, these Call of Duty Mobile Codes will give you all the game's exclusives for free.
In an attempt to transfer the PC and game console gaming experience to Android and iOS, TiMi Studios alongside Tencent Games launched Call of Duty Mobile and while some may choose to call it Legends of War, we won't deny the fact that the Modern Warfare and/or Black Ops like multiplayer first person shooter game is superb in every sense of the word.
From the scratch, the game comes with three different modes. First is the multiplayer mode where you can play against other players in short game modes such as Team Deathmatch, Domination and more. Then there's the zombie mode where you're tasked to kill the undead and finally, we have the ever popular battle royale which pits you againt 99 other players in a battle for survival.
Also Checkout: Destiny 2 Emblem Codes
Offering an extraordinary visuals as well as a plethora of maps and weapons, COD mobile has proven to be a fully-fledged game. It is fast-paced per se and offers not one (1) but two (2) in-game currencies. First is Credits, which can be earned by grinding and the second is COD Points which can be acquired using real-life money.
Now if you aren't ready to part ways with some dosh but still want some of the exclusive character and weapon skins available in COD marketplace, then here's a list of all the currently active Call of Duty Mobile codes to redeem right now.
Call of Duty Mobile Codes
There are a dozen of COD Mobile Codes out there and most of them once redeemed gives you several rewards such as weapon skin and legendary outfits. Below, we have compiled a list of all the Call of Duty Mobile Codes that are still active.
BGMTZBZ4BV
BGMVZBZCU8
BFQGZEBKCAZ97FP
BFOBZDUCLOZ6DBT
BFOEZBAIEPOZF6P
BFOBZBAVHJGZCSK
BFNGZCZ5EM
BFOBZIJOKJZ38KM
BFOFZTCEGNZJWEA
BFQHZBDRPCQZPF9
From BGMPZBZWVQ to BFOGZOJKTZAKKA, we do agree that COD Mobile Redeem Codes galore but it's sad to say that most of them have already expired. However, the codes listed above are as of writing this article, still active. So we urge you to redeem them as soon as possible before they expire.
How to Redeem Codes in Call of Duty Mobile
While the official COD Mobile doesn't bring an option to redeem codes, you'd be glad to hear that you can carry out this task by navigating to the game's official site. So without further ado, here's how to redeem Call of Duty Mobile Codes.
To begin with, fire up the Call of Duty Mobile game installed on your Android or iOS device. Now click on your profile directly from the main menu.
On the next page, select the second icon on the screen and from here, you should see your user ID (UID).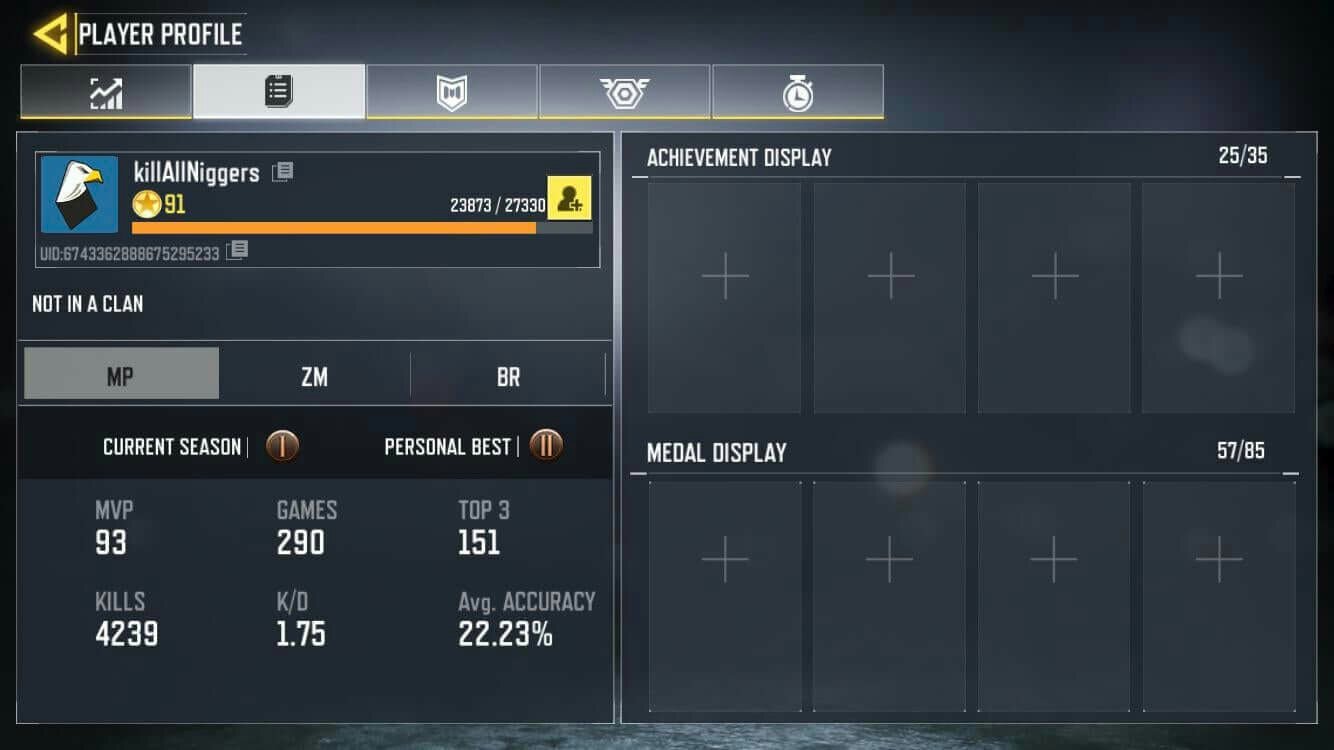 Now go ahead and copy the numbers and once that's done, head over to www.callofduty.com/redemption and paste your user ID into the first text box.
Once done, copy-paste any of the above listed codes into the second box and input the verification code as seen in the third box.
Hit Submit once everything is done and you'll be gifted a variety of items which can be collected and added to your inventory.