Core Keeper save editor and trainer galore. So if you're looking to get unlimited health, food and more, then here's the best Core Keeper save editor to utilize right now.
If you have a thing for pixel art games and have had enough of Stardew Valley, Terraria, Minecraft and Starbound, then you should really look into Core Keeper, a sandbox survival game that combines all the elements of combat, farming, mining and crafting in a subterranean settings.
Playable with up to eight (8) friends, Core Keeper is a resource management dungeon builder that task players to energize an eponymous Core. To accomplish this, players must defeat bosses, construct structures and harvest crops in order to survive.
Also Checkout: Trials in Tainted Space Save Editor
Health, food and tool durability are the three major issues you must consider during gameplay, and while the game is fun in and of itself, players are bound to find its grind repetitive. This is where save editor comes in to play.
For one thing, Core Keeper save editor is simply a tool capable of modifying the game save files, thereby allowing you to max your skills level and get infinite health, food, armor and weapons durability.
Unlike Melvor Idle, Core Keeper is yet to have a dedicated save editor. But if you want to make your gameplay easier, then you can simply resort to cheating, thanks to WeMod Trainer.
WeMod Core Keeper Trainer
WeMod, for the uninformed, is a Windows-only trainer that offers a plethora of free cheats for more than 2,000+ games. The tool works by automatically scanning and detecting the games installed on your PC from source such as Steam, and then present a list of available cheats to use.
Battlefields aside, it brings support for Core Keeper, with up to fourteen (14) cheat options to toggle ON and OFF. Below is a list of all the Core Keeper cheats you'd find on WeMod Trainer.
Unlimited Health
Unlimited Food
Super Speed
Easy Digging
Easy Fishing
Improve Game Lighting
Reveal Larger Area
Unlimited Weapons Durability
Unlimited Armor Durability
Set Right Clicked Item Count
Set Selected Item 999
Set Selected Item 1
Max Skills Level
Super Damage
Cool right? I know. Now assuming you are looking to efficiently mine weapon crafting resources without fear of getting killed by a host of enemies looking to destroy your Core, then here's how to cheat in Core Keeper using WeMod Trainer.
How to Cheat in Core Keeper Using WeMod Trainer
WeMod is arguably the best Core Keeper Trainer out there on the internet, thanks to its freemium business model.
To install it, simply ensure your PC supports hardware acceleration with Microsoft .NET Framework 4.7 and above installed.
Once you have meet the requirements, go ahead and download WeMod installer from here and fire up the setup file, then hit Install Now.
Next up, double-click to open WeMod, then select Games from the top menu options and use the search bar to look up Core Keeper.
Once found, select it and click the Play button.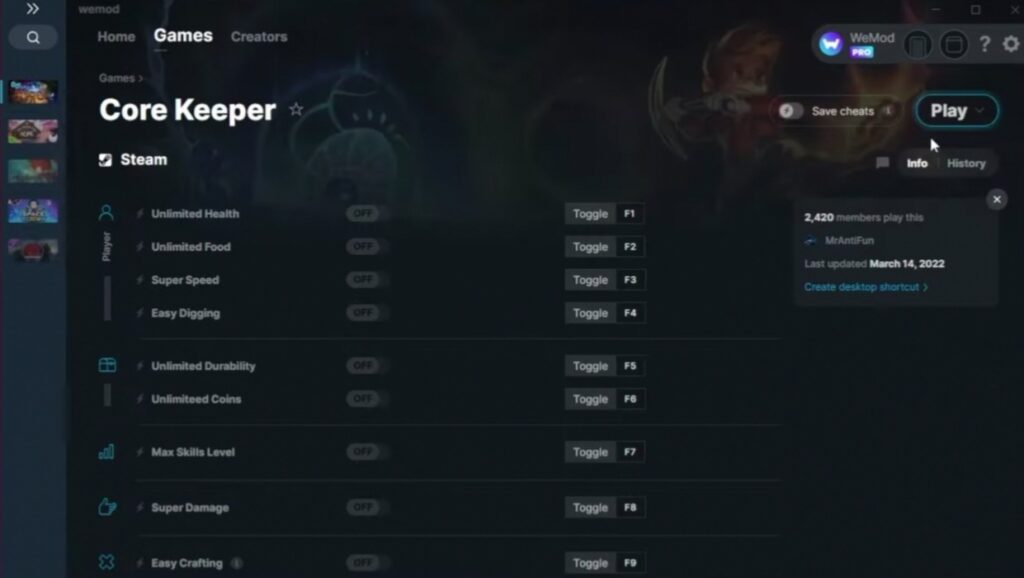 That is it. You can now activate the cheats using the hotkeys listed next to each cheat.
Wrapping Up
So this is arguably the best Core Keeper Save Editor and/or Trainer worth utilizing right now. It is free, extremely reliable and works smoothly. Overall, happy gaming.