Assassin codes aren't many but a few we've found and they're still active. So if you are looking to get pets, knife and other exotic weapons, then here's a list of Roblox Assassin codes you should redeem right now.
Roblox Assassin is a game with class. It's unlike anything you have seen before. From a wide array of skins to tons of customization options, then there's the tier system which contains Common, Rare, Legendary and Exotic Weapons.
Inspired by Garry's Mod and/or Murder and Counter Strike, Assassin is one of the many games on Roblox that is similar to the highly acclaimed Murder Mystery.
The game's main objective is pretty straightforward as you're equipped with a knife which can be used to kill a randomly selected target steathly whilst also avoiding being killed by other players.
Also Checkout: Roblox Mad City Codes for Money, Skins and More
With over 587 million visits and up to 3,500 "concurrent" players, you will agree with me that Assassin is hugely popular. Now if you are looking to get free knife, pets and other exotic weapons, then here's a list of codes for Roblox Assassins
FREEKNIFE: Gives you a free knife
walruspls: Gives you a walrus pet
PRISMANGAMES: Gives you a floating knife pet
So these are the list of all the Assassin codes worth redeeming right now. Do note that we'll be updating this page with more codes once they are made available. So bookmark it and endeavour to visit often.
How to Redeem Codes in Assassin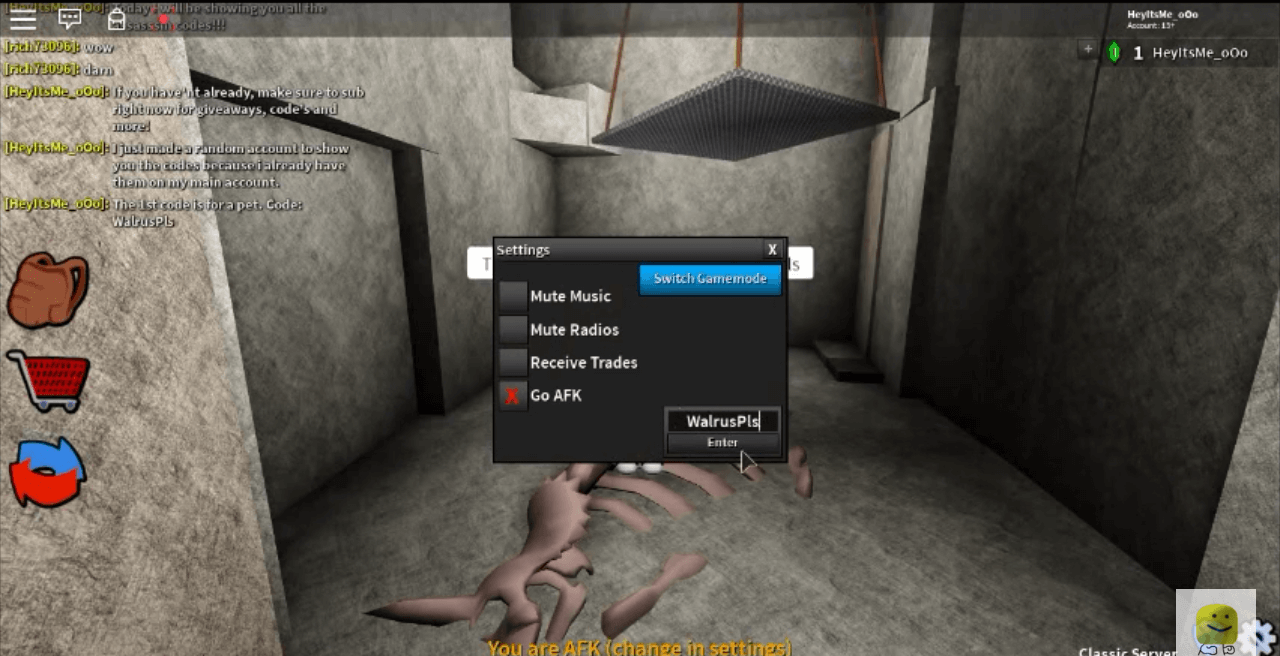 The steps to redeem codes in Roblox Assassin is pretty simple and straightforward. So to get this one going, simply head over to Roblox and fire up the game.
Once this is done, click on the Settings Gear icon at the top right side of the screen and a window should pop-up.
From here, type in any of the above listed codes into the box and click enter to get your reward. That's all.