Free Google Play gift card codes abound. So if you are looking to buy games from the store, then here's how to get free $50 Google Play gift card codes.
On Google Play Store, you'd find a plethora of games that are overwhelmingly awesome. From Minecraft to Terraria and so many more. But the truth is, they aren't free. While the likes of Fortnite and PUBG can be downloaded for free, they'd come with in-app purchases that requires you to "cough up" dollars in other to unlock special features.
We all know it's difficult to come across money these days and spending the little you have on the colossal number of games on Play Store is unnecessary. Today, we'll walk you through on how to save more and spend less and that's by revealing the process to get free Google Play Promo codes.
In a bit to follow iOS tradition and also to allow developers "toss out" freebies once in a while, Google began rolling out promotion privileges that allows developers to generate interest for their games by sharing out promo codes to reviewers.
Also Checkout: Realm Royale Codes 2021
While a slew of "point reward sites" promises to award users gift cards for partaking in various surveys and by downloading apps, we will only bore you with two of them and also we are going to unravel two reliable 'sources' to get free Google Play gift card codes as well as one portal that unravels the best game deals that will help you discover games gone free on the Google Play Store.
So if you are already itching to get your hands on them, then here is how to get free $50 Google Play Gift card codes to buy games from the Store.
1. Play-Code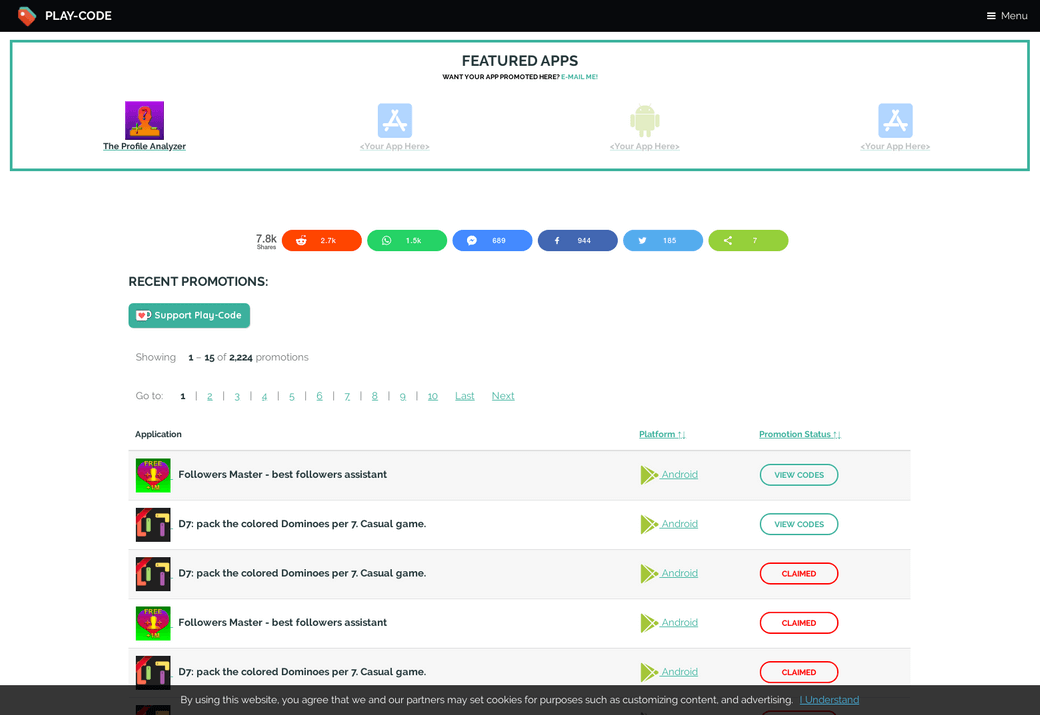 We begin with Play-Code, the first of its kind where users can "painlessly" discover tons of free Google Play Codes with ease. It is a site (as well as an app) designed to let developers giveaway promo codes for their app. On Play-Code, you will discover a "plethora" number of free Google Play Codes capable of unlocking paid apps once redeemed.
One of the site's strong point is that you can easily discover unclaimed codes easily. It also offers a premium version of its app and this comes with extra features such as no ads and more. Overall, Play-Code is good. So go ahead and check the recent promo codes shared on the site.
To show you that it works, here's some of the unused Google Play Codes we got from Play-Code. They'd unlock the full version of paid apps for free thus giving you an ad-free experience.
Screenit – UN6BWTK27GP6M7GD97TQJJJ (Get more unused codes from here)
Number Go! – 6AWSN6CN46R36S00KJYF23C (Get more unused codes from here)
As we said earlier, a slew of Google Play Codes galore on Play-Code. So endeavour to check them out.
Bonus tip: Androidb is also offering hundreds of free Google Play codes for various apps and games on the Play Store. You can check them out here.
2. appKarma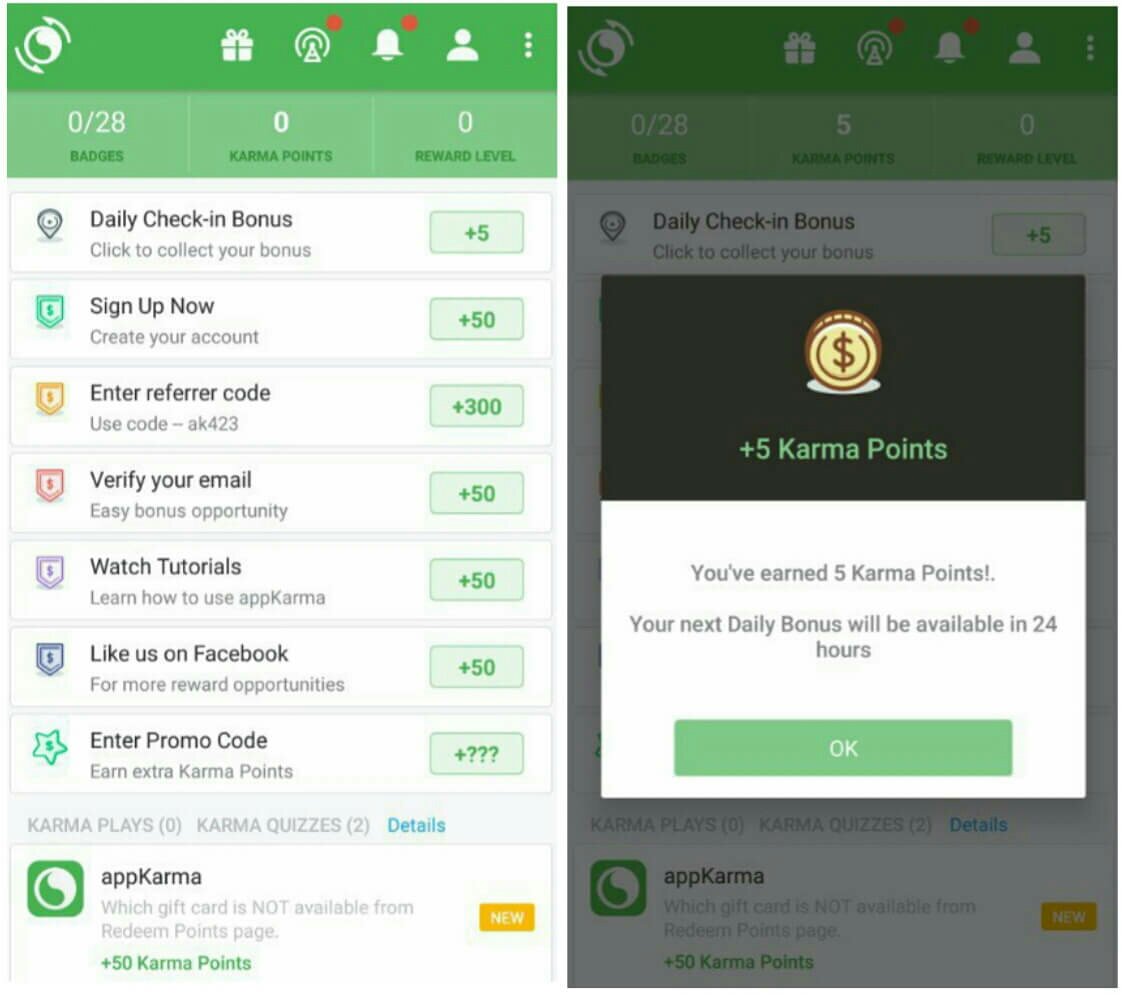 Before now, I'd often patronize Play-Code for free Google Play Promo codes but the app (and its site) in as much as they are good (concept-wise) isn't that popular and most of the codes you do come across on the platform is either expired or used. Just when I was about to give up, I came across appKarma and despite the fact that it requires a lot of grinding, truth still remains that it works.
For folks completely unaware, appKarma is an app that rewards you with free cash and gift cards for completing various offers. Most of the offers involves subscribing to a service or playing through hundreds of levels within a game in other to earn points.
These tasks are obviously difficult but they do pay. You can earn up to $10 Google Play gift card with it but get prepared for the long haul. AppKarma is currently available in the US, UK and several other countries.
3. Google Opinion Rewards
Due to increased competition, a slew of businesses, industries and organizations are always on the lookout to improve their products and services and this is all in a bit to attract customers. Generally, they'd achieve this by hiring market research companies to gather information for them from the general public but with apps like Google Opinion Rewards which acts as the conduit, you earn for every query answered.
Similar to the aforementioned, Google Opinion Rewards is basically an app that lets you earn free Play Store credits by answering questions and providing feedback. The credit earned on each survey can painlessly be used to purchase games from the Store.
Available in 26 countries including Germany and Austria, Google Opinion Rewards usage condition is that you "must" be 18 years and once you have answered some demographic queries the app will throw at you prior to signing up, you'd start receiving notifications whenever a survey is available and you must answer them sincerely.
One of the things to be aware of nonetheless is that surveys don't pop-up often and they vary based on location and activity history. But the app is good, very very good and reliable. Do try it out.
4. r/GooglePlayDeals
Reddit pride itself as the front page of the internet but it's basically a forum where registered users can share and talk about almost anything you can imagine. From news to technology, films, culture, literature, games and even the weirdest things in the world including contents that aren't safe for work.
Similar to every other forums out there, Reddit is divided into thousands of smaller communities and they're called subreddits. However, of all the subreddits you'd find on reddit, r/GooglePlayDeals is typically the one you should frequent when you're looking for the best game deals on Google Play Store.
It's massive, very very large with tons of users online patiently waiting to discover the newest app and/or game sale deals. You do find a slew of paid apps as well as games that have gone free on Google Play for a limited number of time. Utilize it amicably.
How to Redeem Google Play Gift Card Codes
There are several ways to redeem free Google Play Codes, one is by firing up the Google Play Store app. Once this is done, simply tap on the Menu button visible at the top left side of the screen and then select redeem. A new window will pop-up, enter your promo code and click Redeem.
The second method is pretty simple and straightforward as all you're required to do is to visit this url play.google.com/redeem and then type in your code and click Redeem. That's all.