According to Hasbro CEO and Chairman Brain Goldner, MTG Arena is officially coming to mobile this year being 2020 but the exact release date hasn't been revealed yet. However instead of waiting, we will walk you through on how to play MTG Arena on Android prior to its launch date.
For players completely unaware, MTG Arena is Wizards of the Coast final attempt to take back some of their dominance in the CCG market. A part of Hearthstone's success has been greatly attributed to its simplified gameplay and friendly user interface and MTG Arena on the other hand features a UI that's fairly clean and simplistic.
Also Checkout: MTG Arena Codes: Get Free Booster Packs, XP and More
One important area where MTG Arena falters is that it is only available for PC. But rather than wait for a native client to be released by Wizards of the Coast on mobile, utilizing Steam Link and/or a remote desktop remains the only way to play the game on the go. So in this post, we will walk you through on how to play MTG Arena on Android in less than 5 minutes.
How to Play MTG Arena On Android
To get this one going, ensure you have Steam as well as Magic The Gathering Arena installed on your PC. Once this is done, you will want to add it to your Steam Library. So go ahead and fire up Steam and click on Games from the top menu. A drop down will appear, simply choose the option that says Add a Non-Steam Game to My Library and scroll down till you find MTG Arena in the Add a Game window. Select it and click on Add Selected Programs.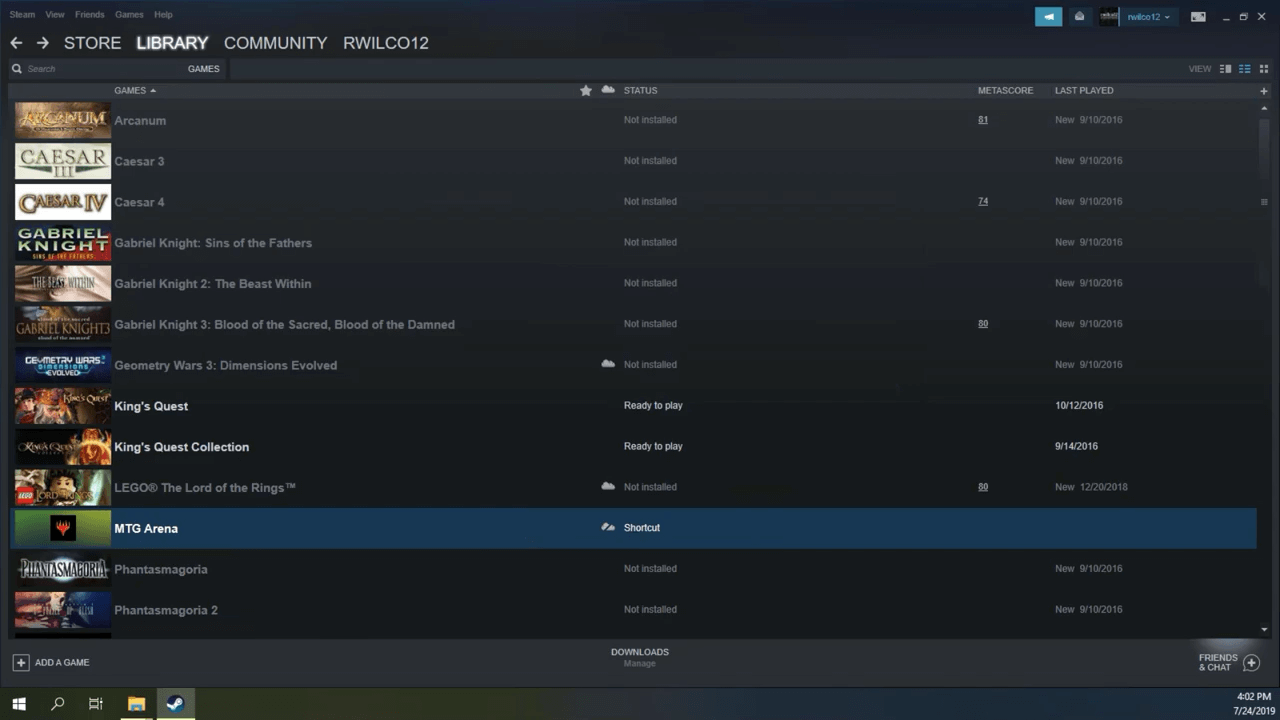 Next up, head over to Google Play Store and install Steam Link on your Android device. Once done, fire it up and click on Get Started. On the next page, you'll be asked to pair a controller. For this, we are going to choose Touch Controls since MTG Arena works better with it.
Once selected, you will arrive at the Connect a Computer page where you'll see a list of all the computers that are available. But if there isn't any, simply click ReScan and it will scan for all the PCs that are running Steam.
Once the scanning process is through and your PC recognised, simply click on it and you will be provided with a PIN to authorize your Android device. Enter the PIN in the pop-up box visible on Steam and click Ok. Steam Link will now run a quick test on your internet connection and if everything goes successfully, your device will be paired with your PC.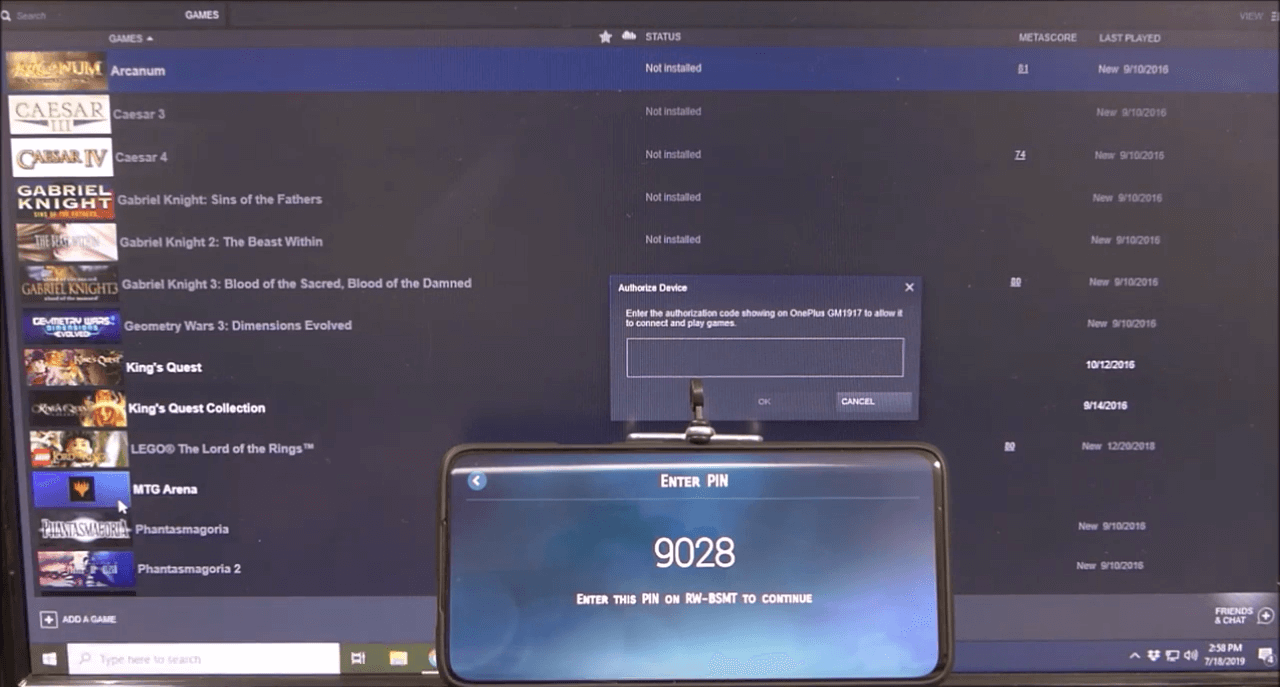 Optimizing MTG Arena to Work Better on Android
Out of the box, MTG Arena works very well but if you are looking to optimize it to make it work better and perhaps smoothly, then do not fire up the game yet instead click on the Settings button within the Steam Link app installed on your Android phone and then choose Streaming to arrive at the Advanced Streaming Settings page. From there, jump into the Advanced menu and enable the option that says Start Streaming Desktop.
Next up, fire up MTG Arena on your PC and click on the Settings gear icon located at the top right side. Jump into Graphics from here and tick the box to turn on Full Screen. Once done, ensure the Quality Level is set to Medium and exit the game on your PC.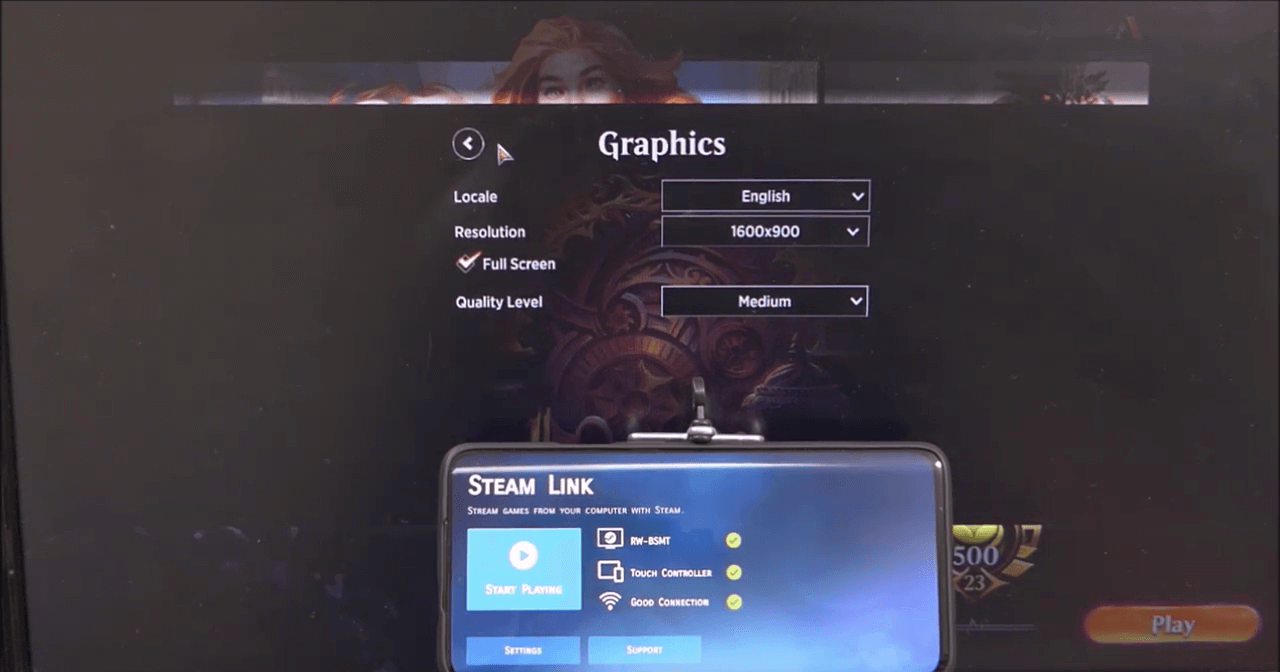 Now directly from your device, click on the Start Playing button within the Steam Link app and hit on the first icon at the top left to change your cursor to direct cursor. This is essential if you want the mouse to move wherever you tap.
Once this is done, you can now enjoy MTG Arena on your Android phone.
Wrapping Up
You can also use Chrome Remote Desktop app to play MTG Arena on Android. But we highly recommend Steam Link since its setup guide is easy and consistent. Overall, enjoy MTG Arena on your couch.